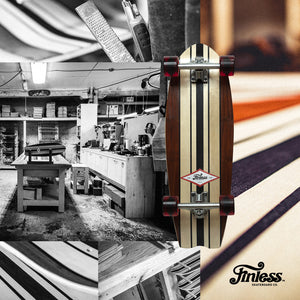 Dan McKay: Dad and Tour Manager turned Skateboard Maker
There's something exciting about startups that I just can't seem to shake. This story about Dan McKay is one that caught my interest and the title of this post really kicks it off - Dad and Tour Manager turned Skateboard Maker. The pandemic has caused many of our friends and colleagues to be displaced and the music industry has probably been hit harder than most. But Dan's story should remind all of us that we have to keep charging ahead and sometimes, a pivot to a new challenge and career could be just what we need to get life inching back to something towards the new normal.
Enjoy the read and don't forget to support their Kickstarter campaign!
by Vipe Desai
Tell us a little about your background and what inspired the idea behind Finless Skateboards?
Finless really just started as a hobby. When I would come home from tours in the summer, my kids and I would start pressing and cutting our own cruisers and longboards in the backyard. It was a great thing to do together and we all learned so much just by tinkering around with different ways to build these decks. Lots of research and trying different things. The kids were riding these to school everyday and their classmates started putting orders in. We're lucky enough that Los Angeles is our second home and the kids come down there quite a bit and it was always customary to go cruise the boardwalk in Venice with our homemade skateboards. I guess that's what inspired us to make them look classic, 50's style surf. The whole history of surfing and skateboarding, the culture, it's all a very sacred thing and that's what inspired us to make them look and feel a certain way. Then back home, skating with the kids in the morning to go to school, I would see this guy in a suit, with a briefcase riding this big clumsy downhill longboard drop deck, and I told myself, man… this guy should be riding a really nice looking Finless, to match his suit.
Also, I grew up in the punk rock scene, skating of course, but playing in bands, it was a very much DIY environment. I put on shows at the age of 14 or 15, nobody knew my band, no one was gonna book us, so we just booked ourselves and 200 or 500 kids would show up. That whole scene of kids that were discontent with what we were being fed, we started feeding ourselves, with what we wanted, what we thought was rad. Just doing it ourselves and that is something that stayed with me my whole life and something that I want to show my kids. Punk Rock and Skateboarding was all we lived for then, and it taught me so many great life lessons, stuff to pass down.  So I guess Dogtown, surf culture, the guy in the suit and the music and skate scene was something that inspired this.
Left to Right ( Harley, Dan, Daisy Jo - Finless Skateboard Co). Credit: Will Stockwell
What have you learned so far about starting a new skateboard business?
I think with any new venture, you learn real quick that whatever you thought was gonna happen, won't. Whatever you plan on will change. And that's great! I love things that keep me on my toes and having to figure stuff out…fast. It reminds me of what I do as a Tour Manager really. Also, I am learning, or should I say, rediscovering , that there's a lot of great people in this industry. People that are willing to help as long as you're cool. The Skateboard industry is very much like the music industry in that, there's no room for bullshit, it's tight, and everyone knows each other, and I love that. It's very much a community. And people are cool, just be cool. That is something that I've learned getting older, there's no time for attitudes, good vibes go a long way. And I am greatly appreciative of the people out there that just want to help, networking is huge of course and just talking to people opens up a whole new array of options and ideas.
Is there anything from your background that has helped you so far?
Tons! Touring with bands, we basically move a small city everyday. Shipping people and gear all over the planet. So of course having built a network of freight companies and shipping logistics has helped in quoting our budgets, etc. In my case, being a Tour Manager is essentially being a good leader, playing with crazy budgets and running a huge team. Something I took from my touring experiences again is attitude. I always say, Touring is hard, let's make it fun. Same goes with Finless. We are starting a new company and it's gonna be tough, and we're gonna have to put in so many hours, it's going to be stressful, it's important that we have fun doing it. Bad attitudes….go home.
You've had some support from the artists that you've worked with, tell us how that's going and how they're helping?
I have, Cypress Hill, AWOLNATION, Five Finger Death Punch, The Distillers all share our stories on social media. My really good friend Jennie Vee from Eagles of Death metal has been a huge help having experience with Kickstarting her own projects. Everyone is stoked on this, especially that our industry is down and out until the lockdown is lifted, turning around and looking towards turning a very hard year for all of us in the music industry into something positive, the band's really back.  We are all in it together kinda thing.
You're crowdfunding this effort, what's the plan for the future of the brand after you get fully funded?
We are crowdfunding this, mostly to expand our team, building a more extensive marketing plan and reach our future clients. There's so much that goes into building a new company, website/store, retail, marketing etc. Obviously we want to grow but we don't want to do it too fast, we want to stay smart about it, and authentic. We are huge on the "Mom and Pop" aspect of the skateboard scene and love the many genuine family run success stories and history of this industry which we want to stay true to.  Focusing on being creative and making sustainable products and manufacturing the best Cruiser and Longboards possible.
You're pivoting from one career to another, any words of advice for others who might be experiencing something similar?
It's scary dude. We are all grown up now, we have kids and a mortgage and bills and to go from 100 to Zero and change it up is definitely stressful. But it's also SO exciting. It's conducive to highs you get in action sports in a way. You burn the bridge behind you so there is nowhere else to go but straight forward and up! And you're forced to turn that into a Zero to 100 situation cause you can't go lower then zero. Takes balls to do that, but I truly believe that if you are focused to the point of healthy obsession, and believe in what you are doing and love it with passion, you're going to succeed. That's what I've done all my life and that's how I have gotten to where I am in everything I've done. . It's like dropping into the bowl for the first time. Doing it for the first time and eating shit is gonna hurt. but you are that much closer to achieving that drop in then if you hadn't tried it at all. There's only one way to succeed and you can never know what that is if you don't dive in. "Successful people are just regular people who stopped procrastinating about their dreams'' - Zoltan Bathory - 5FDP. You just gotta do it. 
And learn, learn learn learn learn, talk to people, listen to a podcasts, read up on stuff, research. The more you know the better in ALL aspects of the new path you are taking.  It's good for the brain.
---